BRITISH CYCLING
2017 - A year in review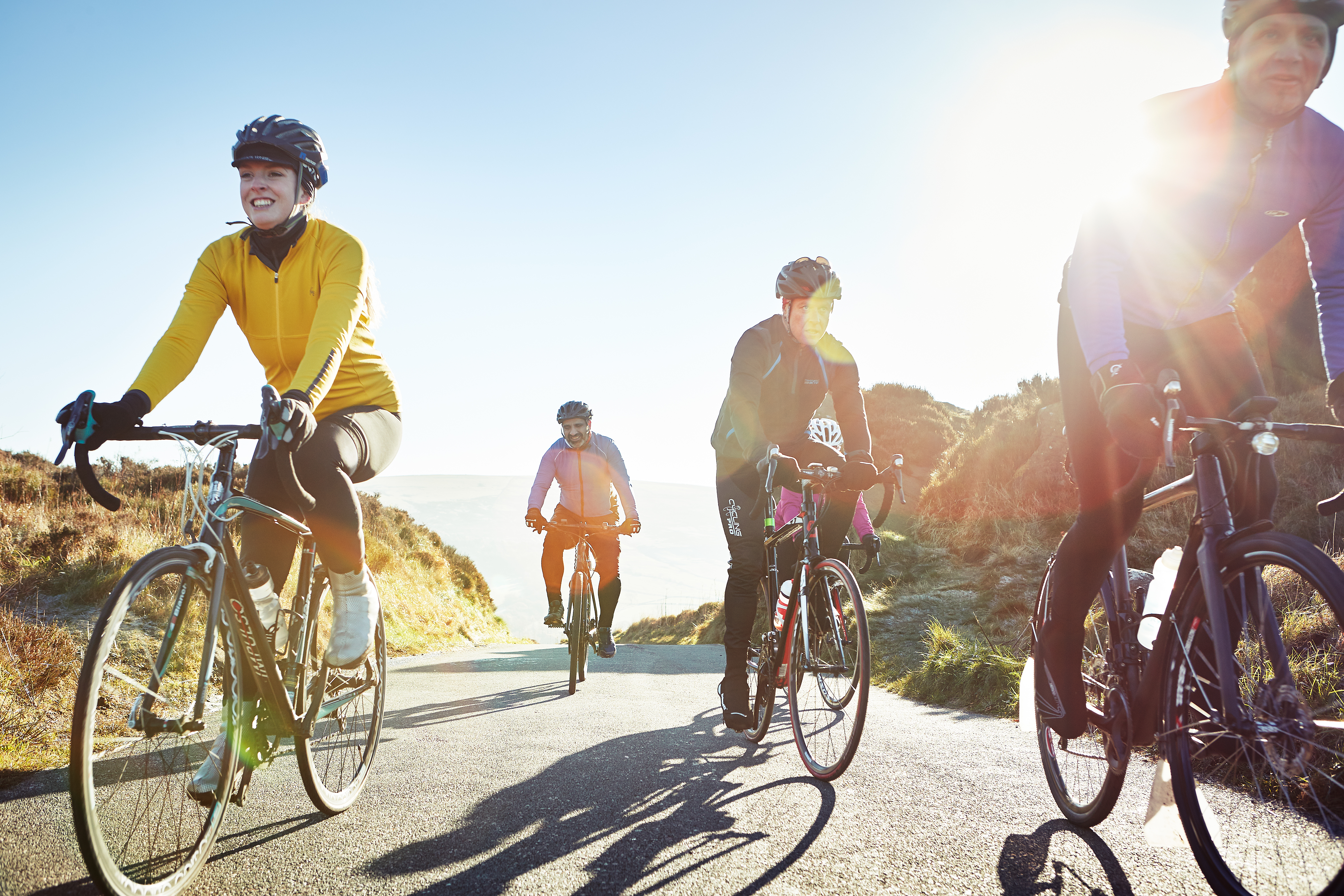 "The past 12 months have been ones of great change for British Cycling.
"When an organisation has been as successful as we have over the last two decades it is right and proper that you are able to answer some tough questions. We've faced those tough questions and we believe we have come up with the answers, not only to maintain our success, but to build on it.
"Substantial progress has been made and we will continue to welcome those tough questions. However, there can be no room for complacency and my first priority as Chief Executive is to ensure that we can live up to our ambition to be a world-leading governing body of which all our members can be proud.
"Over the last three Olympic and Paralympic cycles we have seen extraordinary success while more people are now inspired and enabled to cycle in this country than ever before.
"My focus now is on ensuring that we can give athletes and the public the reassurance they need to believe in our ability to win clean on the biggest global stages because of the systems and controls we have put in place.
"Since I've been in post at British Cycling I've spent a great deal of time thinking about and talking to people at every level of the sport about what the future looks like and what our vision as an organisation should be.
"It is a simple one: together we are transforming Britain into a great cycling nation."
Julie Harrington, British Cycling Chief Executive
A year of change for British Cycling
There has been significant change at the very top of our organisation, with Chief Executive Julie Harrington and Performance Director Stephen (Sparky) Park both joining the organisation.
Julie and Sparky caught up to talk about their first impressions of British Cycling, their time in the role so far and their vision for the future.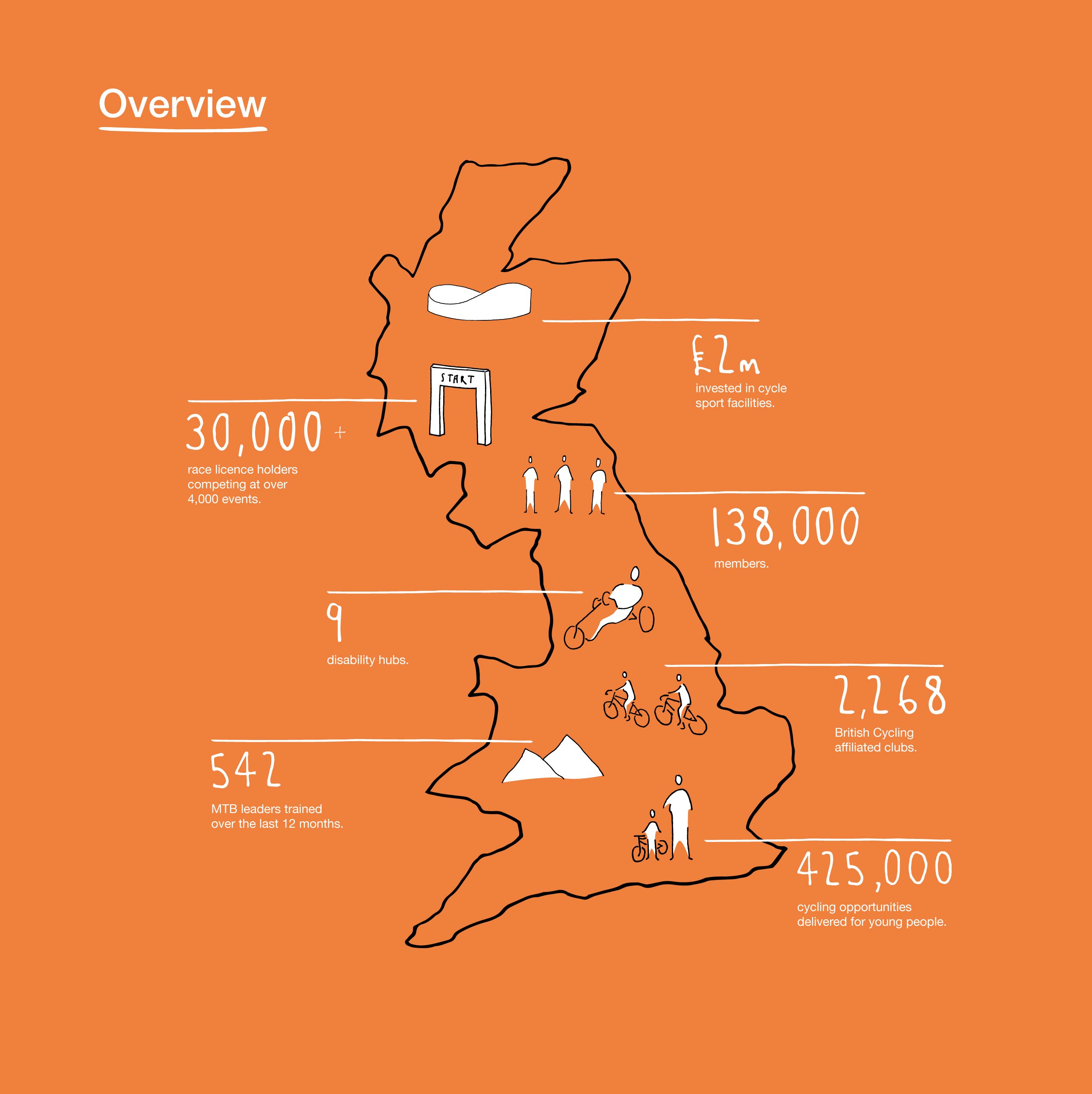 ELITE SUCCESS AND
WORLD-CLASS EVENTS
Delivering results on the world stage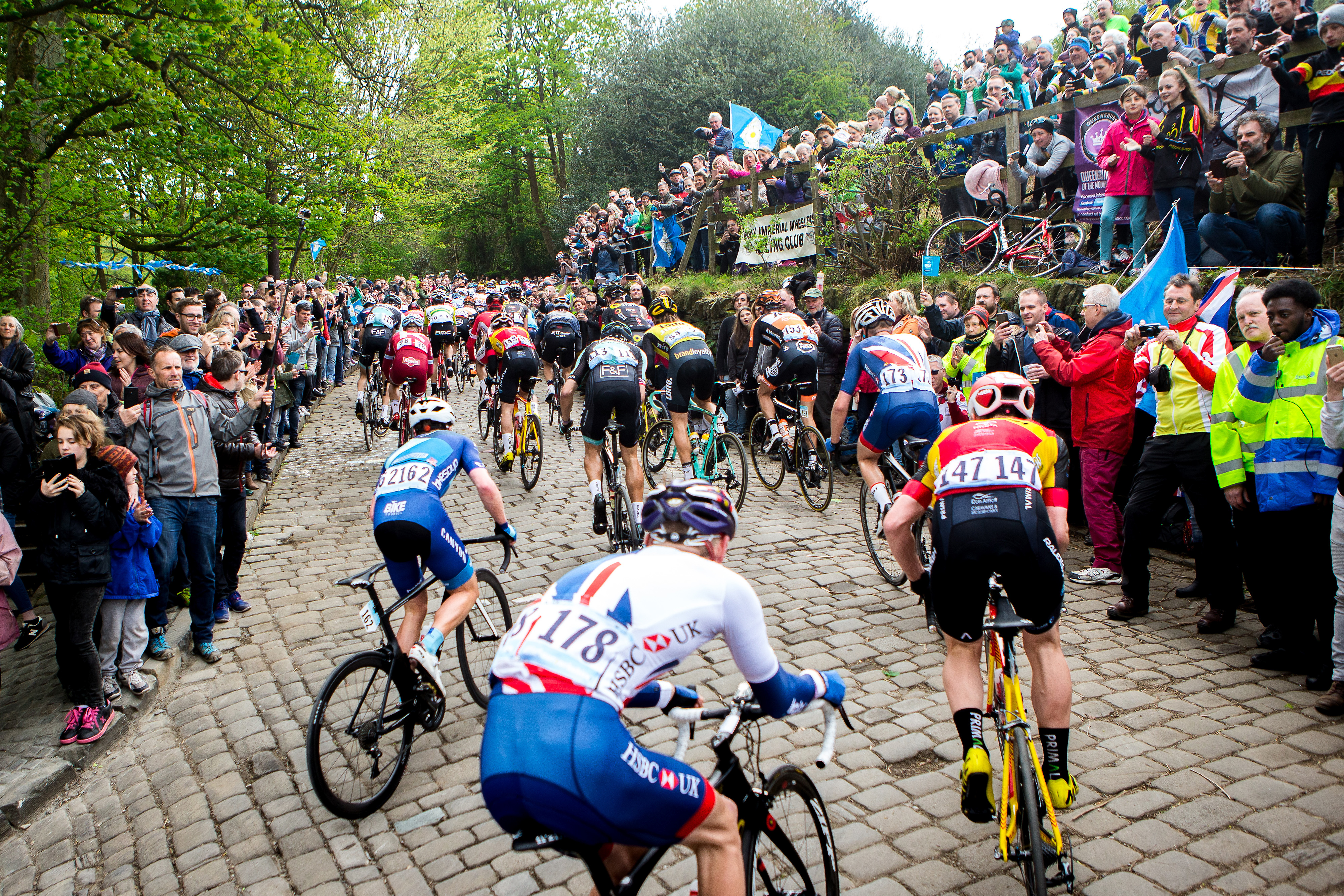 The culture within the Great Britain Cycling Team has made positive steps forward for the Tokyo 2020 cycle.
Engagement and welfare of staff and riders is at the forefront of all activities. Staff and riders have been given the opportunity to input into the development of the revised Tokyo 2020 strategy to ensure transparency of the process and acceptance of the final plans.
"I am working alongside a team of world-class coaching and support staff, all of whom are committed to achieving success in Tokyo 2020. This attitude is reflected within our squad of talented riders, and we have all been able to put the past behind us in order to focus our attention, energy and drive on what it takes to win at the next Olympic and Paralympic Games."
The year after an Olympic and Paralympic Games is traditionally a time of transition for the Great Britain Cycling Team and the last year has been no different.
Sir Bradley Wiggins, Joanna Rowsell Shand, Shanaze Reade, Becky James and Manon Carpenter all announced their retirement, having won a combined total of 12 Olympic and 42 world championship medals across four disciplines. Laura Kenny and Dame Sarah Storey also missed the majority of the year on maternity leave.
Despite the high-profile absentees, the Great Britain Cycling Team has ensured that a British rider enjoying podium success has remained a familiar sight.
Inspiration to participation
Katie Archibald enjoyed an outstanding 2017, winning her first individual world title, two European titles and five British titles, with her achievements inspiring young cyclists across the UK.
Katie caught up with three of them; Natasha, Hannah and Ben to talk about her amazing year and hear about their cycling dreams.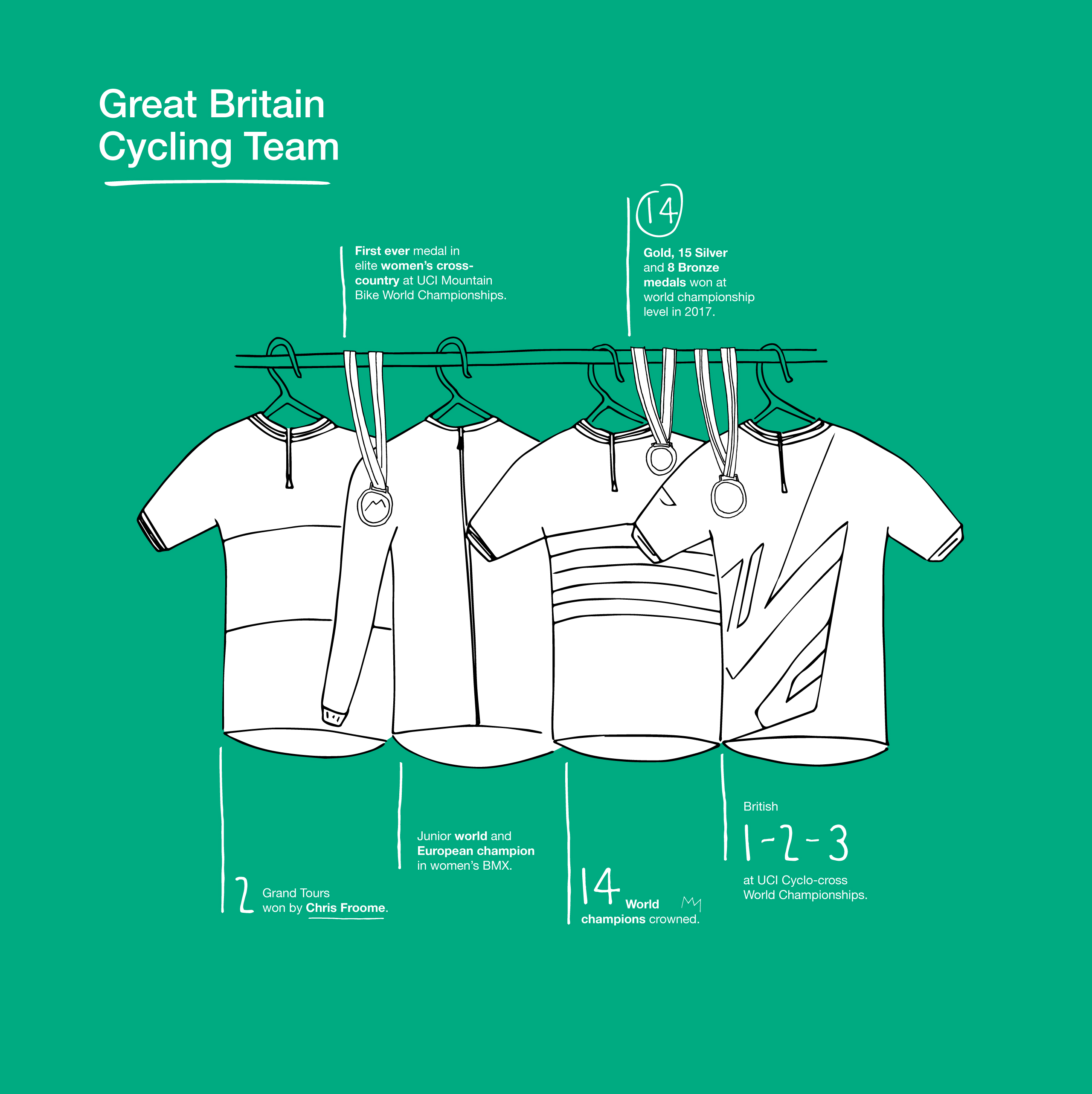 The last 12 months have seen us continue to work collaboratively with a variety of organisations to deliver a full programme of international and domestic events.
This has seen millions of cycling fans across Britain witness some of the world's best cyclists in action in the six cycling disciplines.
The huge attendance figures continue to highlight the growth in popularity of the sport and we aim to use these events to inspire more people to get on their bikes and offer them more opportunities to do so.
This is why our successful bid to host the 2019 UCI Road Cycling World Championships in Yorkshire also includes a £15 million investment to build new cycle-sport facilities across the country, ensuring the race leaves a legacy that lasts long after the final rider crosses the finish line.
PARTICIPATION GROWTH
More people riding, more often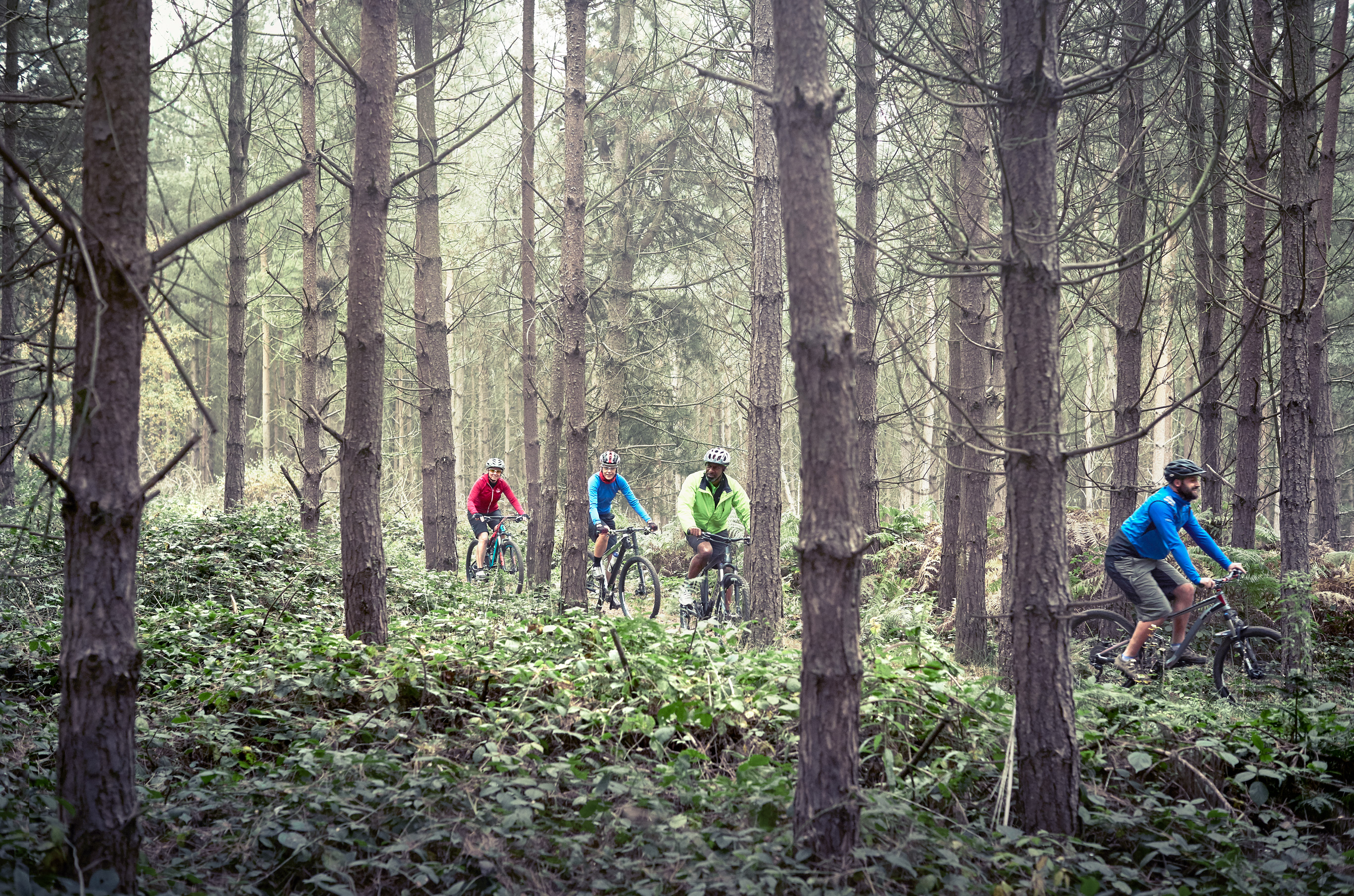 We know that cycling can make a huge contribution to our society. Through our programmes we want to help people discover or rediscover the simple pleasure of riding a bike, and form a life-long habit.
This year saw the launch of HSBC UK City Ride, the first step in the ambition to make cycling the most popular activity and sport of choice in the UK.
The traffic-free, city centre events aim to provide families and children with the perfect opportunity to ride on the road in a fun and comfortable environment.
In the 12 months leading up to March 2017, over 37,000 places were filled on HSBC UK Breeze Rides – the highest number since the programme launched in 2011 – and a further 100,000 more on HSBC UK Ride Social rides. Furthermore, through our HSBC UK Guided Rides programme and Let's Ride Pop-up pilot project, we're helping people across the country to get back on their bikes in a safe and fun environment.
In addition through fun and accessible coaching in schools, communities and clubs, HSBC UK Go-Ride has again helped thousands of young people enjoy the freedom of cycling and develop life-long skills this year.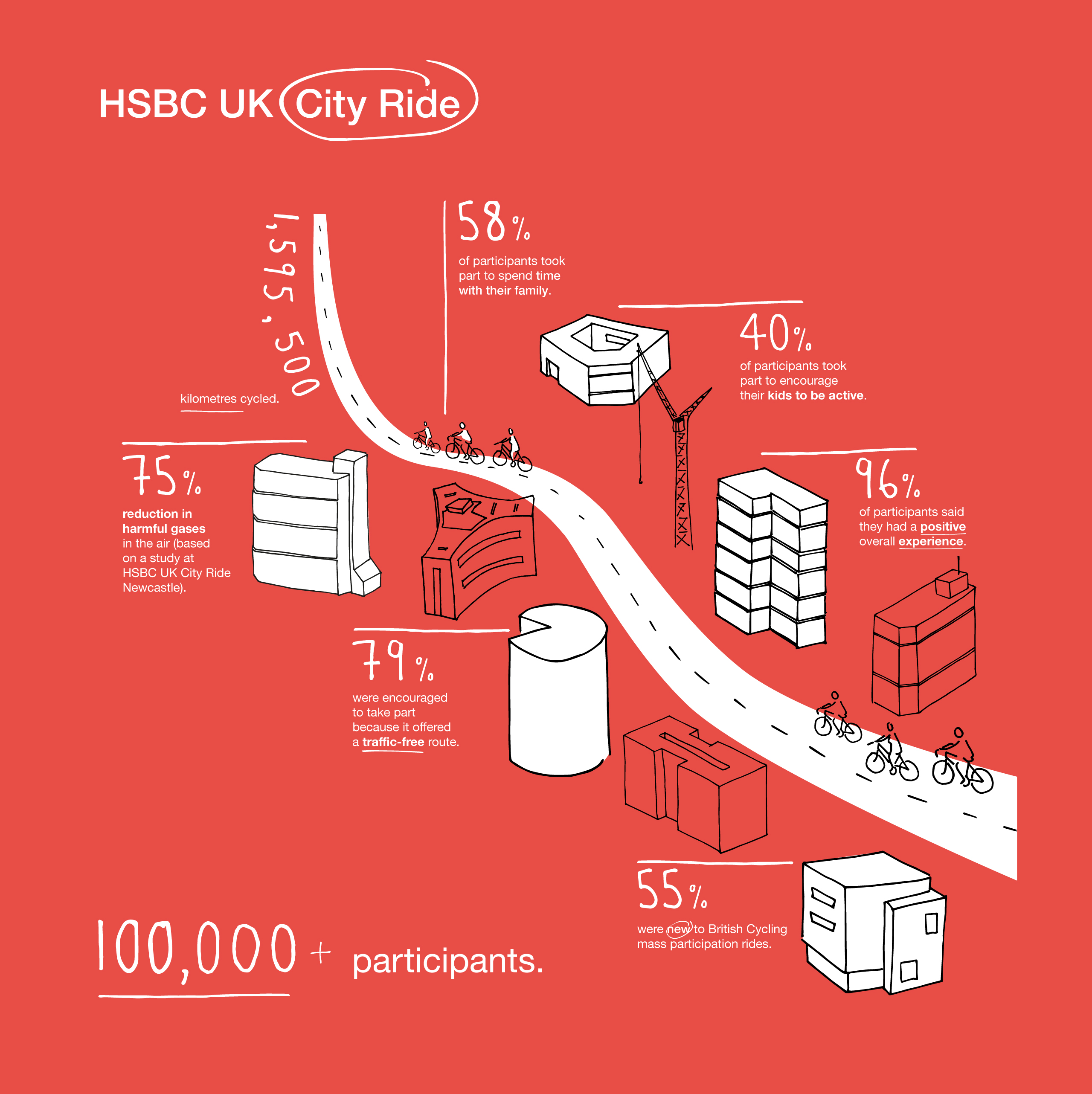 Ensuring that life on two wheels is appealing, convenient and attractive to everyone is a key element of our ambition to transform Britain into a great cycling nation.
Gender is one of the most recognised disparities in cycling participation, and traditionally, cycling has been considered a male dominated sport.
Through our women's strategy, We Ride, we are making great strides, and were proud to announce that we have inspired 723,000 women to cycle since 2013, with further encouraging milestones passed at every stage of our women's cycling pathway.
This year saw us add three new disability hubs to our existing network, bringing the total number of hubs nationwide to nine and providing over 1,000 opportunities for disabled people to get involved in cycling.
Through our partnerships with city councils, and complementing our HSBC UK City Rides, we continue to support initiatives designed to encourage the use of bicycles in inner-cities such as the Big Birmingham Bikes project.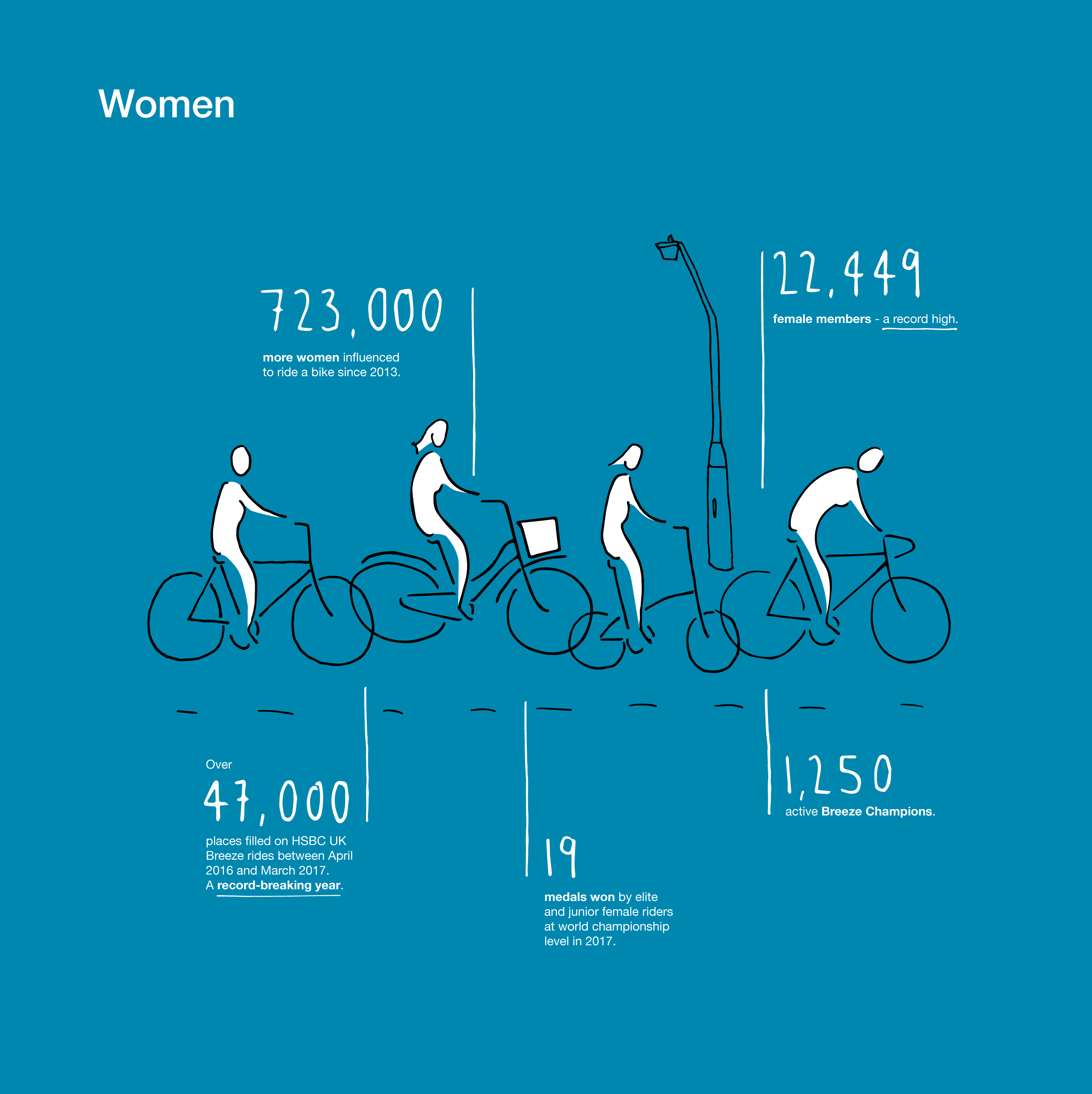 SERVING THE SPORT
Protecting the future of our sport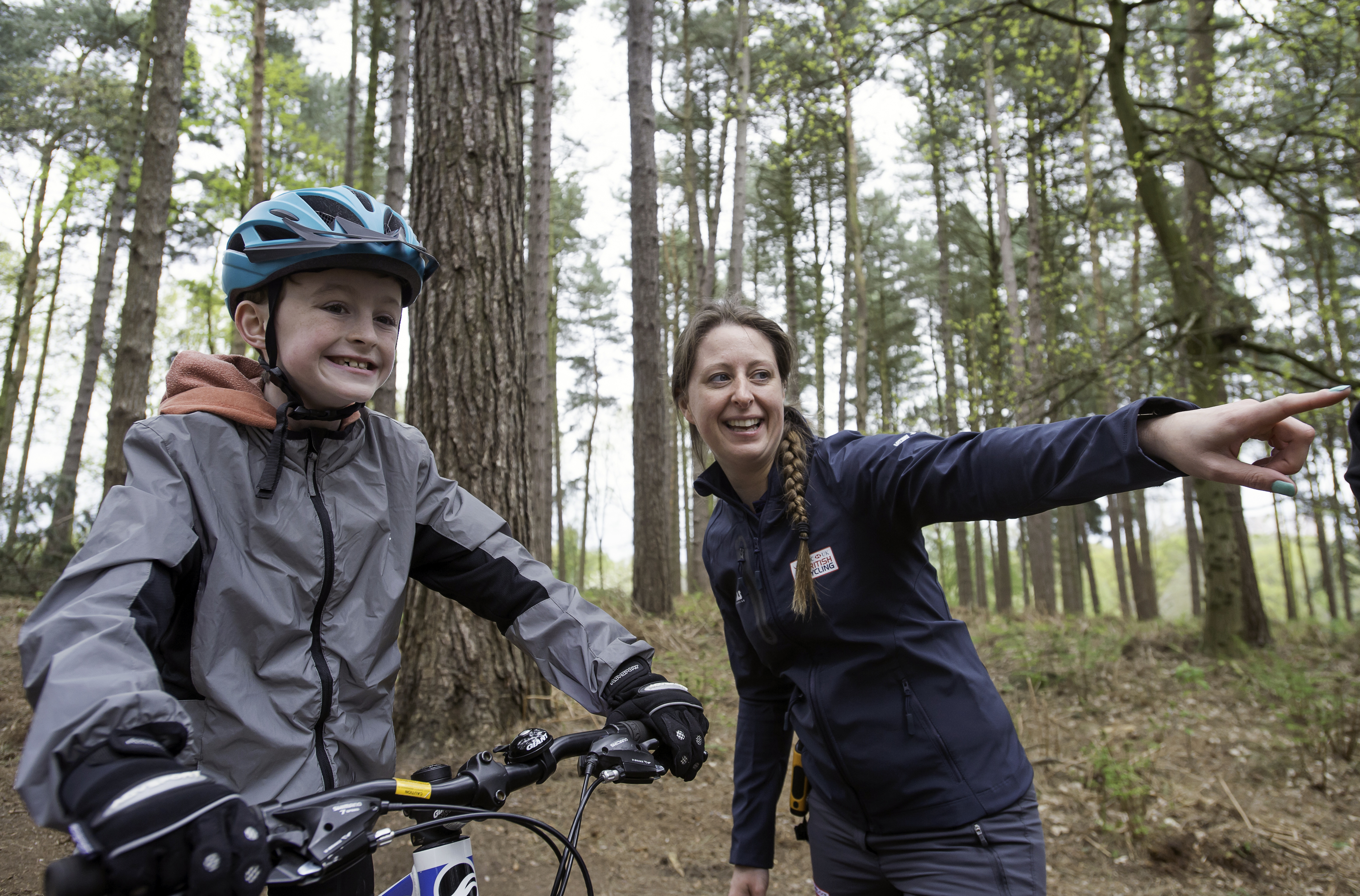 Like many sports, cycling in Britain simply wouldn't function if it wasn't for the tireless work of volunteers.
"Without volunteers, we wouldn't have opportunities to race and without those opportunities we wouldn't be able to perform as well on the world stage. It could even be said that without them I wouldn't have won my Olympic gold medals!"
There are currently more than 25,000 people registered in official British Cycling volunteer roles - not including the thousands of volunteers working in unofficial roles, all of whom are invaluable to the ongoing success of the sport.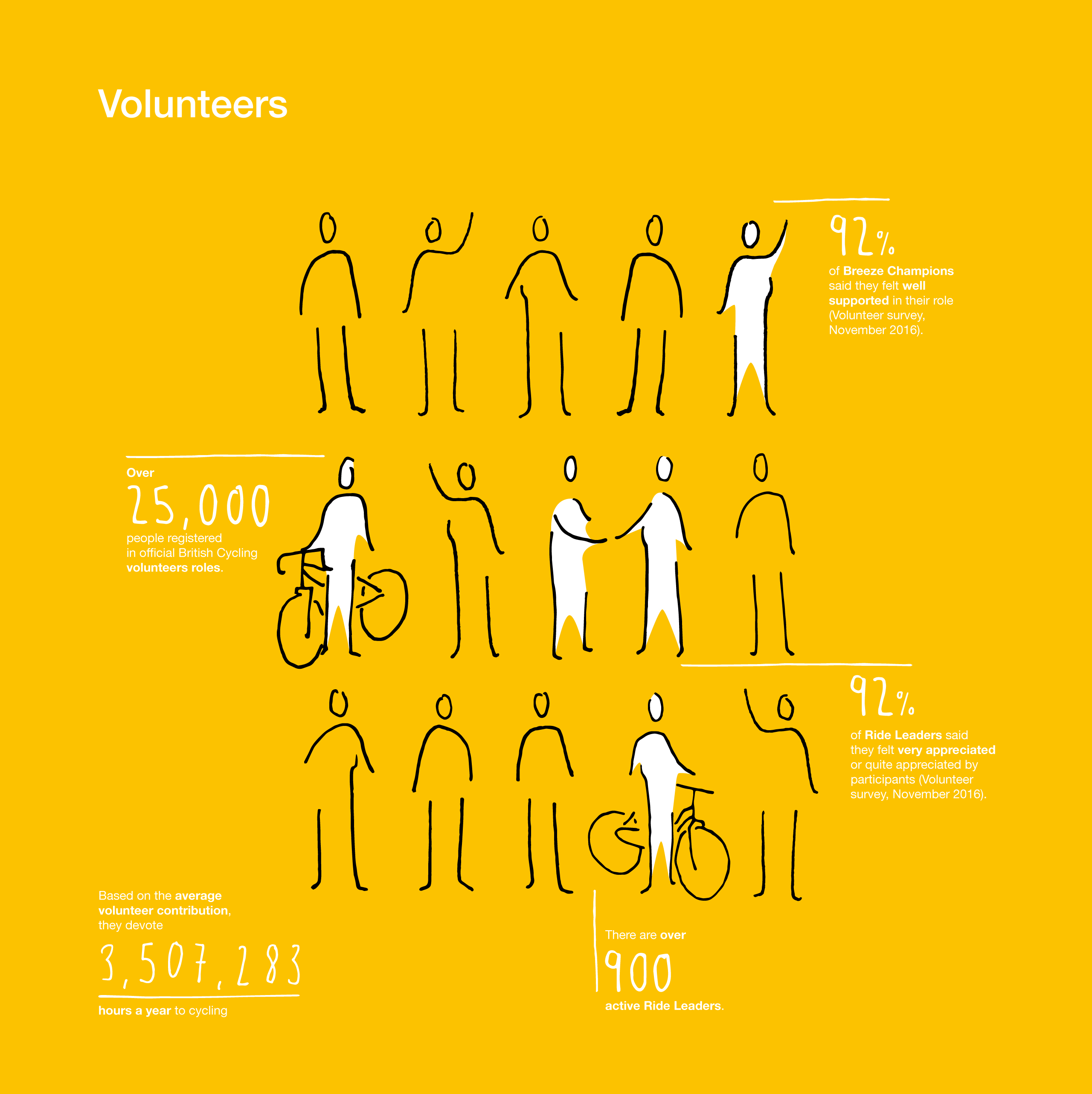 We are committed to ensuring that everyone who loves cycling – whether competing, training or spectating – can put their trust in the integrity of our sport.
We have implemented a number of significant changes to the management of our medical services, which followed an external review led by Dr Rod Jaques of the English Institute of Sport. All of his recommendations have been accepted and we welcome UK Anti-doping's support for these changes.
We continue to provide support and education to the hardworking people who help us deliver cycling events across the country and without whom cycling in this country simply couldn't exist.
We truly value the contribution made by all of our 138,000 British Cycling members, with this collective strength providing a stronger voice for cyclists.
Our members receive a wide range of benefits and discounts with companies including Halfords, SiS and Chain Reaction Cycles, and are first in the queue for tickets to a host of major events. They also receive day-to-day support from our membership and club services team, while our appointed legal team has recovered over six million pounds on behalf of our members who were involved in cycling incidents where they were not to blame.
All membership revenue is invested back into cycling, supporting a wide range of grassroots initiatives.
INFLUENCE AND ADVOCACY
Transforming Britain into a great cycling nation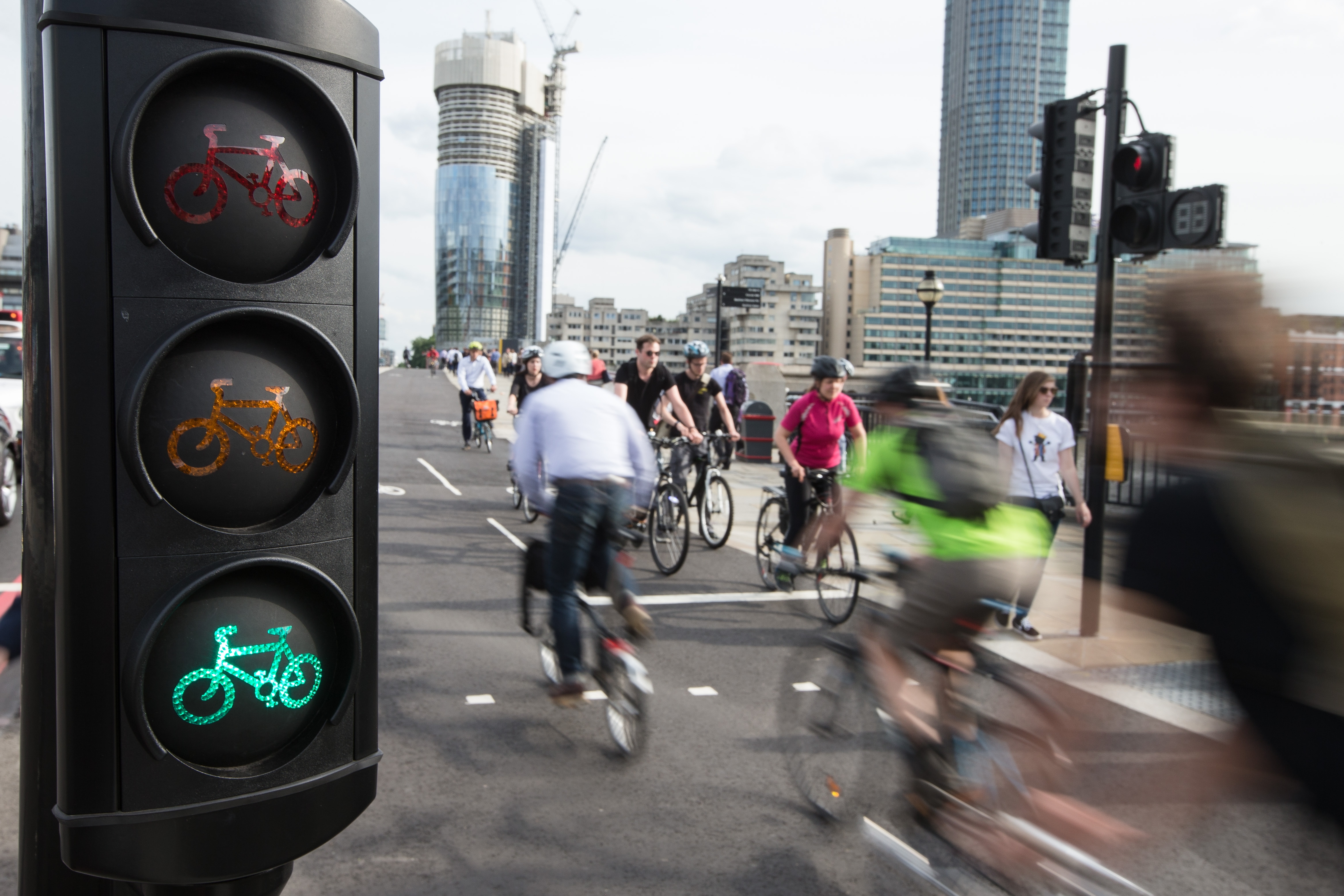 We know that sporting success alone will not transform Britain into a great cycling nation.
Throughout the last year, we have continued to work to represent the interests of our members and everyday cyclists across the country to create the best possible conditions to get more people cycling.
In December, we launched our Turning the Corner campaign – a call to revise the Highway Code and introduce a 'universal' rule to give way when turning in order to create simpler, safer junctions for all road users. The initial phase of the project asked supporters to sign a petition, which they did in huge numbers with a total of 27,000 people pledging their support.
Over 5,500 people then wrote to their MP to lobby for the change, while we hosted a parliamentary reception in June attended by Chris Boardman, Olympic champion Callum Skinner and British Cycling's new policy advocate Dame Sarah Storey.
Adding a female voice to our campaigning work has been a long-held goal, as research shows that concerns about perceived safety for cyclists on our roads are higher amongst women.
In this role, Sarah will work alongside Chris Boardman, who was named as Greater Manchester's first ever cycling and walking commissioner in July. Chris will continue in his role with British Cycling whilst working to make cycling and walking a "viable, attractive and important" part of Greater Manchester's transport network.
Building a cycling nation
Chris and our campaigns manager, Martin Key, caught up to discuss some big wins in 2017 and what still needs to happen to make cycling the number one choice for short journeys.
HSBC UK officially became our new lead partner on January 1 2017. The societal partnership encompasses all aspects of the sport, from participation at the grassroots to major organised cycling events through to the highest level of performance with the Great Britain Cycling Team.
"Our partnership with British Cycling is all about ensuring that anyone, anywhere in the UK has the opportunity and inspiration to get on their bike, whether that is for travel, fitness or fun. Over the next eight years we will work with British Cycling to embed cycling into communities up and down the country and inspire two million people to get on their bikes."
We continue to collaborate with our partners, stakeholders and suppliers to benefit both the Great Britain Cycling Team and our membership and work towards achieving our strategic aims.
This, along with continued support from our funding partners UK Sport and Sport England, helps to drive our success on the world stage and inspire more people to get on their bikes.
In the last year efforts have also been made to align our objectives with other key cycling organisations including Cycling UK and Sustrans.
THE JOURNEY HAS ONLY JUST BEGUN
Transforming Britain into a great cycling nation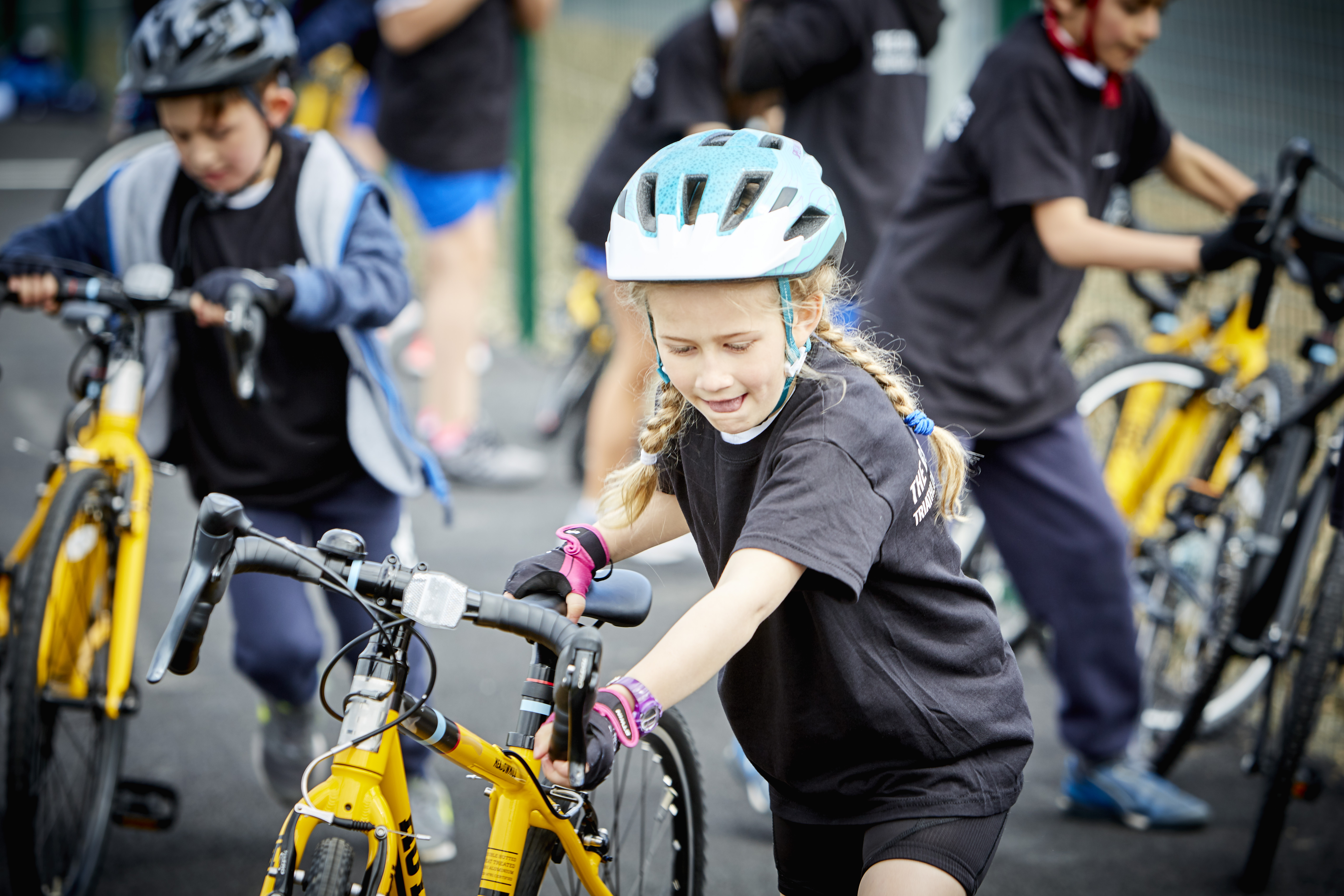 "I'd like to finish by bringing us back to our vision of transforming Britain into a great cycling nation. We cannot make this happen on our own. We will do our bit but we need help to make it happen.
"We want to work more closely with the other major cycling organisations and key stakeholders in the UK. Our voice carries more weight when we work together.
"We need a government that is prepared to prioritise cycling, by recognising its unique ability to put right a lot of the nation's ills.
"We need you. Over 138,000 people are now British Cycling members, and this collective strength provides a stronger voice for cyclists.
"Ultimately, it is about deciding what society we want our children, and their children, to grow up in.
"We have a huge opportunity to change the future of our country. It's vital that we don't miss it."
Julie Harrington, British Cycling Chief Executive